By Lz Dunn. Presented by Arts House as part of Dance Massive. 17 – 19 March, 2017
Conceptualised and lead by Lz Dunn in collaboration with sound artist Lawrence English, choreographer Shian Law and dramaturg Lara Thoms, over an 18-month period the team worked across Australia, engaging local artists as co-performers. Dance Massive 2017 brought the show to Melbourne for three days from 17 to 19 March.
English's 55 minute soundtrack accompanies the audience on a walk through a public space. Before we depart, our guide gives us business cards with information about pigeons on them. We learn some facts about their behaviour, and are encouraged to act similarly throughout the performance.
I arrived not remembering much of what I read about the performance. I soaked up the twilight warmth and the joy of being outdoors. I gave into the spine-tingling strangeness of the piece.
"We are all leaders and we are all followers," our guide Maggie says.
"Pigeons navigate using an internal compass in their eyes and inner ears" I read aloud from my card.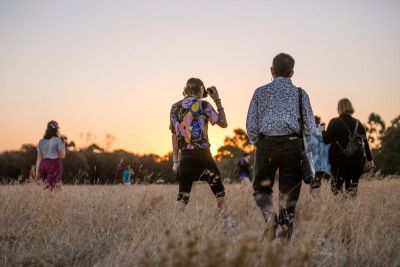 We are asked not to speak during the performance. We somehow reach consensus on where to go by watching each other.
As the journey continues, we get hints that our guide isn't the only collaborator. Other artists reveal themselves as the show unfolds, moving gracefully among us.
As an audience member, the experience was very meditative. I felt a heightened awareness of my surroundings. The crunch of the grass beneath my feet. The setting sun's glow. The people around me and what they were doing.
The experience was unusual, yet it felt natural. We moved instinctively. We behaved as the show's creators wanted us to, needing only gentle, non-verbal guidance. While there was a prescribed beginning and end, we did not have a set path. The movement of the group was left to happen organically, making it a fascinating behavioural experiment.
Sophia Dickinson
Photographer: Brtony Jackson